Welcome to Happy Dude™
Where positivity meets apparel and more!
Positivity apparel is trending. It's clothing that makes a statement using text and design.  A slogan on a shirt can draw attention, and your appearance can influence and inspire the people around you.
No doubt our World needs more happiness now more than ever.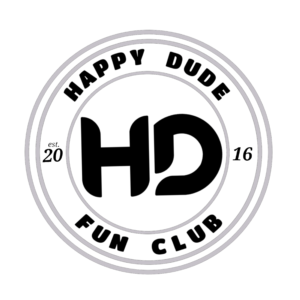 Happy Dude Fun Club™ is a community of people who share a fun and positive outlook on life. We're optimists, boosting happiness and good vibes wherever we go. We want to inspire others to be Happy Dude's too!
If you're still reading, you're probably a Happy Dude!
If you'd like to support our mission to get more Happy Dude's in the club, just pair your beautiful smile with something from our shop. Happy Dude's are everywhere, all around the world, so don't be surprised if you see another one in the wild. 
Our values include:
Spreading happiness and positivity in our communities and around the World.
Helping and inspiring others, supporting the best interests of our youth, our communities, and our future.
Respecting our planet and all living things, for now and for future generations to come. 
All Happy Dude™  products support eco-friendly business practices. Items are made to order to ensure a zero waste environment. We use printing and manufacturing facilities in Canada, USA, Mexico, Spain, Brazil, Latvia, UK, Australia, Poland, and Japan so you get stuff faster, with less border and customs delays,  all while reducing your carbon footprint through our smart shipping.
If you haven't checked already, please click here to visit our shop and support our mission to get more Happy Dude's in the club!
Thanks for stopping by!
Happy Dude™ 
Feel good and have fun™
If you're a business or organization with specific needs,  please email info@happydude.ca